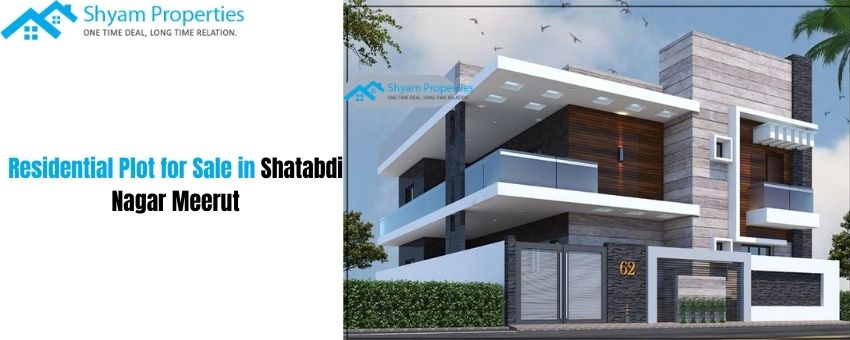 In these recent years, Meerut has witnessed immense growth in the realty sector. It has contributed a considerable share of India's real estate market. From average-sized buildings equipped with all modern facilities, proximity to all social amenities & modern infrastructure to high-raised apartments located at the prime locations of the city, Meerut has everything to offer. Shatabdi Nagar is one of the best localities in Meerut that offers excellent residential property options for all profile investors/property buyers. It is catering to the housing and residential plot demands of people from all walks of life. In this article, we are going to discuss some good reasons to invest in a residential plot in Shatabdi Nagar Meerut.
Robust Connectivity:
Shatabdi Nagar is one of the prime localities in Meerut. This locality is near Partapur, Delhi Road, and Jainpur. The location has excellent road connectivity. It is well-connected via internal arteries such as Ghopla Road, Keshav Road, Damodar Marg, etc. Bus services and private transport services in Shatabdi Nagar provide good local transport for the people. Meerut city junction railway station is a nearby commute facility available here. Meerut City Junction is just about 7 km away from Shatabdi Nagar and reachable via Delhi Road. Furthermore, Indira Gandhi International Airport is about 82 km from Shatabdi Nagar, Meerut via NE-3.
Availability Of The Best Residential Plots:
Shatabdi Nagar is a mid-income housing hub of Meerut, offering good options for people looking for residential plots in the city. You can easily find a budget residential plot for sale in Shatabdi Nagar Meerut, which offers advanced-level amenities and facilities to make your daily life easier. The residential plots in Shatabdi Nagar are available with good infrastructure and have a better value than other property options in Meerut. The presence of Sector 5 E Park, Ambedkar Park, and Sadbhavna Park also offer ample greenery to this locality. As the Residential plots in Shatabdi Nagar have a good appreciation rate, buying a residential plot in this locality is a great money-saving investment that will guarantee higher returns in the future.
Home To Good Educational Institutes:
Meerut is the major educational hub of India. There are many good schools in and around Shatabdi Nagar, which are affiliated with the ICSE board, CBSE board, and Uttar Pradesh State Board. Some of the renowned schools in this locality are The Gyan Public School, Presidency Public School, Dewan Public International School, The Adhyyan School, Bit Global School, Millenium Kids School, Anant International School, etc. Savita Devi Mahavidyalaya, Dewan Vs Group Of Institutions India, Bharat Institute Of Technology, etc are some of the reputed higher educational institutes you will find in and around Shatabdi Nagar, Meerut.
Having Good Healthcare Facilities:
Many private, government and super specialty hospitals are available in and around Shatabdi Nagar, Meerut. Aastha Hospital, Jawahar Eye Hospital, and Arogya Health Care Clinic Center are some reputed healthcare centers that provide locale with excellent medical care
Factors like a good road transport system, proximity to the international airport, railway station, educational institutions, schools, and hospitals, good sanitation, and availability of abundant water supply, have made Shatabdi Nagar, Meerut a perfect location for people seeking residential plots for purchase.